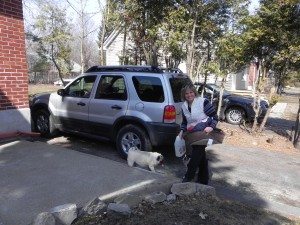 Today is a very special day…it is Easter at the SPCA, Jean Talon and also Shelly's annual "Give it Away to Doggie Day" …Yeah!  So, let me tell you about both events and how you too can create a special doggie day in your life as well.
Today from 11am-5pm ( and tomorrow too as well) there is an Easter bake sale including cookies, cake & chocolate,  information available on exotic pets (birds, guinea pigs, rabbits, rats, gerbils, etc) as well as a boutique selling cages, accessories & pet toys!  Why attend?  Well..that's easy- All proceeds will benefit the Montreal SPCA's exotic animal department;  used to spay female rabbits, help pay for medical bills, and providecare for other exotic animals that often end up without a home and are not often thought when  people are think  about getting a pet.   So..stop by and fill your tummy with goodies and learn all about exotic pets! All for a GREAT cause!
Now, let me tell you about the other event:  Shelly's  "Give it Away to Doggie Day" is now in its 7th year and always on April 9th.  Why April 9th?  Well 7 years ago, I rescued a dog that had been living in an apartment in NDG…basically, its owner had a breakdown and was no longer caring for the Greyhound/Labrador mix. In happier and healthier times, I saw that dog regularly at Girourd park but all of a sudden, visits seemed to be less and less frequent and I became worried.  I inquired and actually got the Landlord to open up the apartment…luckily, I got there in time and was able to bring a hungry, yet still full of love, dirty doggieback to my apartment for some good old fashion loving, a good bath, and a visit to the local dog park.  I tried my best to find him a home and even considered keeping him-but at that time, I was living in an apartment, going through transition myself, and trying my best to keep my dog Bailey healthy and happy.  So, I decided to drive to  SPCA Monteregie, a no kill shelter in Sainte-Angèle-de-Monnoir on the South Shore. I met some wonderful volunteers and came to find out just how much "free" love and care goes on there.  I got greeted by this big furry boy who had been there for most of his life.  The dogs were running in the field and I have to admit…I loved all the licking that I got that day! 
After explaining my story, and feeling quite powerless, they decided to take my little buddy in.  I brought a bed, a big bag of food, lots of toys, and a donation to help with the associated costs.  The only thing I could do next was "pray" and that I did.. I prayed that a nice family would see how deserving this little guy was ( well..they all are) and adopt him…luckily he was and my prayers were answered!
I was so grateful and decided that every year I would go back and give things that I collected, over the year, that could help them out.  This year will be no differernt.  I have an old doggie bed, a set of bowls, 2 toys, an old blanket, 4 doggie coats, 3 leashes, a bag of food, 2 big containers of vinegar and of course, a gigantic bag of doggie treats!  Along with Kayla the Pug and my friend Kris, we will be off for the day-a day dedicated to helping animals in need! 
If you have some items hanging around your house (cleaning supplies, old blankets, accessories for animals-you can drop by SPCA, Jean Talon today because they welcome and are grateful for your donations! Cages & accessories are needed for the shelter.  In fact, you can drop by any shelter! Better yet,  pick a day once a year dedicated to helping animals.  I really want to pay this feel good day forward!  You can have your own "Doggie Give Away Day" too!
Easter at the SPCA: Today and tomorrow 11-5pm, 5215 Jean Talon (metro Namur)
Give it Away to Doggie Day: Any day, any shelter, and anytime within operating hours.
On one last note…
No..Wayne..I promise not to come home with a Chinchilla!:)
Please keep in mind…A rabbit is not a toy!  This Easter-say "Happy Easter" with a chocolate or stuffed bunny instead!
Have a wonderful Pet day!