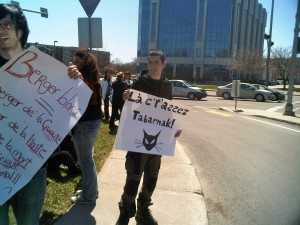 On the website for the City of Laval can be found the response of the city regarding the contract with Berger Blanc. It says the following:
The Service of the protection citizens, administrator of the contract between the City and the service provider  of Le Berger Blanc inc,  wishes to provide information on the business relationship that unites of the  two parties.
Since the program Enquete aired last week, several allegations were made, showing confusion among the population and generating reactions of many kinds. To this end, we consider it necessary to set the record straight. Thus, it is incorrect to state that the City of Laval has renewed the contract it has with Le Berger Blanc inc. pound for the service.
That contract ends May 31 and next, according to law, the executive committee has approved last Wednesday, April 20, a public hearing for the service proposals for a pound. The specifications of this bid include provisions to ensure the City of supplier qualification and professionalism of its
services.
Administrative checks have been conducted in recent years and no violations were found during these surprise visits. It is important to remember that the position of the company Le Berger Blanc inc. provides pickings animals, adoption, a place of transit and accommodation where no medical procedure is performed, except care related to hygiene of animals.
The events of recent days have prompted us to make another visit this morning and, again, no breach of the normal rules were observed. City of Laval and the service of the protection of citizens, have always acted responsibly with animals and will not tolerate any act of cruelty towards them. Moreover, it is important to remember that gestures of this kind under the Criminal Code and are punishable by sanctions.
We will continue to monitor diligently to comply with all contractual terms and, if necessary, to require the service provider a plan for correcting deviations.