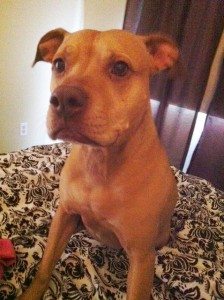 The Following is a courtesy listing for a rescue in Ontario. Please share with friends and family.
!URGENT!
Penny is a beautiful Bullie who our ANML RESQ is currently fostering. As you may or may not know, it is illegal to own a Pitbull in Ontario and if she goes to a kennel she will probably be put down. Here is the website to look at this beautiful girl http://www.furkidsrescue.ca/ This weekend our girl Penny will need to be kenneled. Not the best thing for a girl that has spent her life living in a family situation.

Penny is great with adults and kids. she is good with dogs and cats as well. She is a slightly high energy girl at 7 years old, but I am sure with a warm body to snuggle with, she settles in pretty quickly after some energy burning exercise outdoors. Please open up your heart and home to this poor dog who doesn't deserve to be abandoned.
Email us at anmlresq@hotmail.com or write us at
ANML-RESQ Network of Ontario, Box 42, Caledon, ON L7C 3L7
You can contact us at 416-256-1DOG or 416-256-1364 (also fax number).
Are you interested in adopting or fostering? Click the 'Apply Now' link below and fill out our adoption form. Click to

APPLY NOW

.