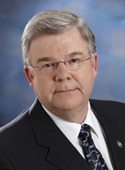 May 4, 2011
The Minister of Agriculture, Fisheries and Food, Minister responsible for the Abitibi-Témiscamingue and Nord-du-Québec and Abitibi-East MP, Mr Pierre Corbeil, gave the order yesterday that the pound Berger Blanc has to undergo specific conditions for the procedure of certain activities within the institution.
All euthanasia must be performed under close supervision and direction of a veterinarian, in order to respect the well being of animals. Euthanasia has to be performed at a determined time range so that the Ministry of Agriculture, Fisheries and Food can ensure close monitoring.
"The issue of health and animal welfare is a priority that is treated with the utmost seriousness by the government of Quebec. The pound, Berger Blanc,  shall comply with the rules that govern how things are done in this domain. Thus, all euthanasia must be performed with sensibility and compassion, by a person authorized to perform that act, "said Minister Corbeil.
In addition, the Minister's order state that all the cages and all enclosures must be large enough to allow each animal to stand normally, turn easily and lie down in an extended position. Also, the number of animals kept may not exceed number of capacity of the facility.
Finally, random inspections will be conducted to ensure compliance with the order. The Minister will continue to work with his partners to ensure the health and well-being of animals.