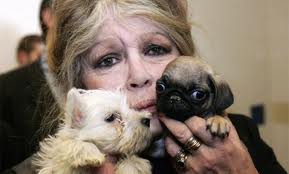 Posted on Canoe.ca
The former French actress Brigitte Bardot, who fiercely defends animal rights, has sent an open letter to Montreal Mayor Gerald Tremblay on Friday to ask him to terminate the contracts with The Berger Blanc.
In a letter, Brigitte Bardot reprehends "the horror in the eyes of dogs who wait" their turn ", surrounded by corpses."
Bardot states that the images that were distributed by Radio-Canada should "haunt" Mr. Tremblay and he should "make the decision to radically alter [his] approach to the management of animals" in Montreal.
The former actress also condems the conduct of the employee of Berger Blanc, shown in the report.
The employee should, according to Ms. Bardot, "to be tried for such acts of cruelty, sadism akin to Nazism."
Brigitte Bardot, asks the mayor of Montreal to "take the necessary measures so that the suffering endured by hundreds of animals over days can be recognized and be stoped," including by terminating contracts with "this horrible company .
It also requires putting in place alternative measures to euthanasia as "sterilization, making the adoption."
Ms. Bardot ends her letter: "Despite the slaughter of seals, animal genocide and shame of humanity, Quebec is a civilized country, changed … so why he is behaving like a barbarian country, primary to animals?"