UPDATE: WINNER BEVERLY WILLIAMS IS UNABLE TO ATTEND THE RIHANNA CONCERT AND DECLINED ACCEPTANCE OF THE TICKETS. WE HAVE NOW PULLED A NEW NAME AND HAVE A NEW WINNER WHO HAS BEEN CONTACTED. CONGRATULATIONS TO PATRICK TITE!!!  LAST CHANCE FOR TICKETS! DRAW IS THURSDAY!

CONGRATULATIONS TO Beverly Williams who won the Rihanna tickets!!! If we cannot reach Beverlywithin 3 days, a new name will be drawn. Thanks for supporting PetitsPawz and Bella!
Montreal Dog Blog and PetitsPawz are raffling off a pair of tickets to see Rihanna in concert at the Bell Center!
Everyone who donates at least $10 to local animal rescue, PetitsPawz will be in to win a pair of tickets to see Rihanna, live in concert at the Bell Centre.
Date: Friday June 10th
Where: Bell Center
Seats:  level red, section 118, row P seats 5 and 6
RAFFLE:
$10 – for 1 entry
$20 for 3 entries
$50 for 10 entries
HOW TO ENTER THE DRAW:
Click:  Donate Now
Donation Amount: enter a minimum of $10 for one ticket (or $20 for 3, $50 for 10)
Fund/Designation: select the corresponding designation from the drop-down menu.
Message Box:  include your phone # and/or e-mail – the manner in which you want to be contacted if you win.
Dedications (optional):  you can 'gift' this as a charitable donation on someone else's behalf if you like – great gift idea!
You will get a tax receipt for your donation.
BY CHEQUE:
You can also enter by sending a cheque to:
PetitsPawz
1125 Moffat Ave.,
Verdun, Quebec
H4H 1Z1  (but make sure you send it with enough time to spare! We can't be responsible for cheques that arrive past the draw date!)
Prize drawing will be:  Thursday May 19th.   Good luck everyone!  And thank you for helping Bella!
*Those of you who have already donated for Bella's cause, will be entered into the draw with the amount of chances corresponding to your donation.
Bella's Story
Bella is a 3 year old mix of lab and pitbull. A very gently, loving girl, Bella lived with her owner since she was a pup, in what she thought was her forever home. Until one day, her owner decided to move and could not take Bella with her, as her landlord would not allow dogs. Besides, Bella was recently injured…she was bitten by a dog and in desperately trying to escape the vicious attack, she fell and seriously injured her knee. The vet bill would be sky high, so Bella's owner decided that she would have Bella euthanized.
[p[youtube]http://www.youtube.com/watch?v=NOl5bL-2E2k[/youtube]
A relative heard about Bella's owner's plans and called the situation to several people's attention. Though we are mainly a cat refuge, we couldn't allow Bella to be put down. She is such a sweet and gentle dog. We found Bella a foster family, where she has been for the past 3 months. Unfortunately, Bella's foster family cannot keep her indefinitely, but she is safe and loved right now. The problem is that Bella's knee is completely shattered. She is being very brave but without her pain killers she is in a lot of pain. If she doesn't have her operation almost immediately, she will suffer more complications. Also, the pain killers could take a toll on her organs, so she can't be on them for too long.
Her vet bill will total between $1,300 and $1,500. We need to raise these funds, as PetitsPawz does not have the financial resources to pay this bill. Bella has already been through a lot. She is nervous around large dogs, due to the attack, she lost her forever home and will need to be moved to a new, hopefully permanent home. We would like to repair her knee and off the painkillers, so that we can concentrate on finding her that perfect family.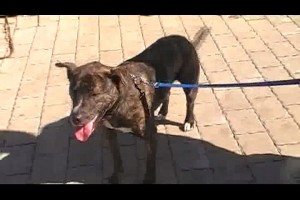 We cannot have the operation performed until the funds are raised. Any help will be greatly appreciated and tax receipts issued for all donations. Thanks to everyone who makes a contribution to help Bella. It is very much appreciated!