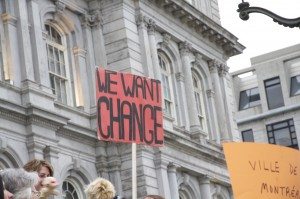 Thanks to all who attended the protest against the Berger Blanc on May 13th outside of City Hall!   Below are some pics. You can find more on the Montreal Dog Blog Facebook Fan Page! Couldn't make it to this one?  No worries – next  time, the protest is multi-city, baby!   In 9 different cities in Quebec!  Hope to see you there!
The next protest is: Saturday, May 28th from 1-3pm.
SPA Canada is pledging public support for all Quebec municipalities to cease and abolish contracts with "profit shelters" and is asking the provincial government to declare this industry, illegal.
MONTRÉAL
Hôtel de Ville de Montréal – 275, rue Notre-Dame Est
(Métro Champ-de-Mars)
QUÉBEC
Assemblée nationale – 1045 Des Parlementaires
SHERBROOKE
MAPAQ – 4260, boulevard Bourque
TROIS-RIVIÈRES
MAPAQ – 5195, boulevard Des Forges
SAINT-JÉRÔME
Palais de Justice -25, rue de Martighy
VALLEYFIELD
Palais de Justice – 180, Salaberry Ouest
ROUYN-NORADA
MAPAQ – 180, boulevard Rideau
CHICOUTIMI
Palais de Justice – 227, rue Racine
GATINEAU
Service Gouvernement du Québec – 170, rue Hôtel de Ville