Well I have some catching up to do. Molly is now 4 ½ years old. If you had met her when we first brought her home compared to now, you would definitely notice a huge improvement.
When we first brought her home, her hair was matted (inches thick) and pulling at her skin. Her teeth, well her teeth were yellow and black and her nails were so long they were curled. She was a physical mess. We thought we could give her a good home and take care of her and nurse her back to health. For the first 6 months, we brought Molly to the vet every week to have her nails trimmed, to have her food adjusted (more on this in a later blog), to have blood and stool samples tested and to have her weighed.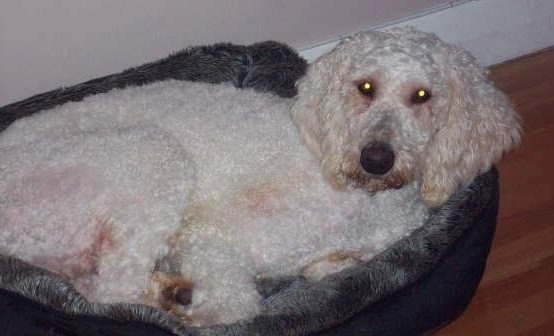 We thought, "This will be easy with a little love". Let me tell you, the physical part was easy, but what we did not count on was how difficult it would be to gain her trust and to find a way for her to accept our love.
Molly, understandably had, and still does have some, trust issues. From her reactions to her surroundings, we can safely assume she was beaten and abused. She was still swollen from having puppies (our vet told us at the time she had probably had a litter before this one as well). When we first took her for a walk, we quickly learned that Molly had psychological issues she had to overcome. Each time one of us stepped on a dry leaf on the ground she tried to bolt. She did not know what the sound was and it terrified her. She was a mess.
Looking back, Molly was not at all what we were looking for. We wanted a dog we could play with, cuddle with on the couch and who would just want to love us and be loved by us. Let me repeat this again, she was NOT at all what we were looking for at the time. We have, however, found what we needed and what Molly needed. Molly needed a family who was willing to work hard to figure out what she needed. I credit my partner for most of this. We found that we can love Molly for all of her imperfections, which make her a perfect fit for our family. We found that she has so much love and personality in her. We found our perfect dog.
I will be back in the following weeks to touch on some of the work we have done with Molly as well as some of our adventures. From time to time I'll even post a few pictures on here as well.