Due to the great response we had to this post on Saturday after our Yoga event, we decided we would make Stanley a weekly feature on my blog until he is adopted,  in Tara's own words.
Tara Garland is the Mananger of the Emergency Shelter, Foster Program and Special Placements for the Canadian SPCA here in Montreal. She sees a lot on a daily basis …but this poor soul really tugged at her heart.
Tara has lost her own BFF Tyson, just in the past weeks. This is a struggle and a blessing for both Stanley and Tara , and I believe that they were destined to be together.
I had the pleasure of meeting Stanley today, and he is a heartbreaker in every sense.
Let's show them some support in the coming weeks by crossposting their journey and gain some insight on what it means to be a foster… both for the dog and the foster family.
Terry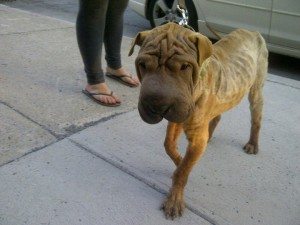 Stanley came into the Montreal SPCA as a stray a few weeks ago, a young Sharpei mix suffering from skin issues and severely emaciated.  While unfortunately we do see our fair share of sad cases in the day to day working at an animal shelter, his appearance was still quite shocking.  His head was very swollen, he was missing fur and has was literally skin and bones.  Despite the fact that he has clearly been mistreated in his lifetime he is an absolute sweetheart, gentle, easy going and loves people.
When he arrived at the shelter I was not in a position to foster, my work schedule can mean long days and I had an active 9 year old dog at home.  Then two weeks ago my dog passed away suddenly from a mass on his spleen that ruptured.  I rescued my first dog Tyson when I was 19 years old, we literally grew up together so I was devastated to say the least. At the time I decided I would wait until after the winter to bring another dog into my home.
The following week I would see Stanley everywhere, arriving to work he'd be outside for a walk, in the lobby, it seemed everywhere I turned his swollen little face was looking right up at me.  Though I was and still am missing my dog terribly, I knew Stanley needed out of the shelter.  He needed desperately to put some weight on and a shelter environment can be very stressful for dogs, making it hard to put on weight.  In a home environment he would likely be more relaxed and hopefully recover more quickly.  The day I decided to take him home I was going to get him from his kennel on my way out and of course, as soon as I turned down the ramp he was there, on his way out for a walk.  It was so perfect I knew this was the dog I was meant to take home.
So we have 2 major goals, get his weight back to normal and get clear up his skin issues.  We have a little over a week of medication left for his treatment and right now he is eating a high energy gastro food. For the next 10 days I am adding probiotics to his food which should help his stomach get back on track.  Already he is processing food much better (solid poops!) and his appetite is healthy.  Many people see him and say "this boy needs a big meal" The reality is that large portions of food for a dog this skinny will make him sick, what will help him put weight on is multiple meals during the day.  So for now he eats 3 times per day and once healthy we will change that to twice a day.  In the next week or so I will transition him off the vet food and onto a fish based grain free diet which should help with his skin.
Currently Stanley weighs 35 pounds, as I write updates I will include his weight so you all can see how he is progressing.  Of course there will also be photos.  Due to his health right now he can't do long walks but in the next couple of weeks I hope to be able to socialize him more.  Tonight he was able to join my family for a Father's Day dinner and he did fantastic.  He already has a big fan club and a long list of babysitters if I go out of town.  Life has not always been kind to Stanley but we're making up for that now and he's loving every minute of it.  Tara
TPK ‎    "In rescuing animals, I lost my mind, but found my soul." ~anonymous