I love the word "second".  For me, it just represents "another life" or "another chance".  Since, I think a lot about my overall impact on the environment, I use that word a lot.  And when it comes to my pets, I also use that word because they have all been given a second chance at a new beginning; a new life!
Last week, I had the chance to visit the Big Sky Ranch Sanctuary in Kemptville.  My Mom and my husband came along and all of us agreed that it was truly an inspiring day that just brought home the real meaning and importance of the word" Second".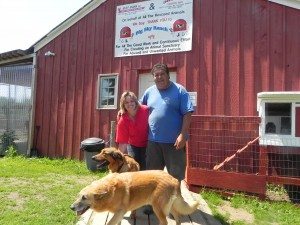 It must be three years since I first touched base with Andy Parent, Founder, Owner and President of the not-for-profit facility that does not receive any government funding. Andy is an amazing human being with a great sense of humor and a BIG heart.  He started the Sanctuary in 2002 ( funded it competely buy himself for 2 years) and has managed to find homes for over 16,000 animals.  What started out as a place for unwanted dogs/cats soon grew to include pot belly pigs, horses, goats, ponies, Coco the Llama- and let's not forget Dakota the Buffalo and the Emu…and many more!!!!  The word "slaughter" is never heard at the Big Sky Ranch…..Andy even made sure to correct me when I said that the Pot-Belly pigs were "eatable"-obviously, I did not mean it literally..since I do not eat pork…but we decided that "cute" was much better!!!:)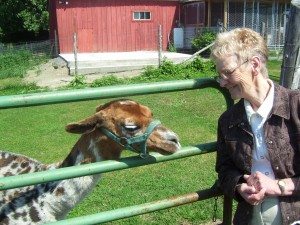 The day we had arrived, a beautiful golden lab had just been rescued from a nearby field. Andy said that it will take a few days before he will be put up for adoption because it will take a few days to understand his personality and what home he will eventually "fit" into best.
The Sanctuary is absolutely a "healing" place-a place filled with and devotion and is the only non-kill Sanctuary of its kind in Eastern Ontario.  Andy spends time educating the public; adults and children about animal welfare and the fact that often animals are discarded just because they are misunderstood!  At Big Sky Ranch there is no room for discrimination-Andy, his son, and his amazing volunteers open their arms to many animals of different kinds, sizes, & ages.
One of his rescued dogs became our chaperone for the day and I have to admit, having the chance to get down and dirty in the pot belly pig pen with wilbur and Sandy made me realize just how smart pigs really are…Sandy loved getting her tummy rubbed! How cute are they?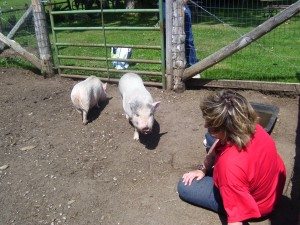 What's amazing also about Andy and the Sanctuary is how they are involved in the commmunity.  They do so much with Big Brother's and Big Sisters, local Youth Centers , and Seniors Homes…the Sancutuary is also giving second chances to troubled youth by offering them the chance to work at the Ranch and learn a variety of skills and compassion.  WONDERFUL!  This is an amazing place to take your kids; not only will they have a fun time interacting with the animals; they will learn that all living creatures are special and deserve to be treated with love, compassion and respect!
Before going to the ranch, I contacted Andy to find out what he needed.  So, with two bags in tow, we brought dog food (uses for  pig feed-they love it), cat food, a bag of veggies, potatoes for the pigs, etc.) but their wish list includes cash donations and a variety of things and everything is deeply appreciated. We bought three T-shirts!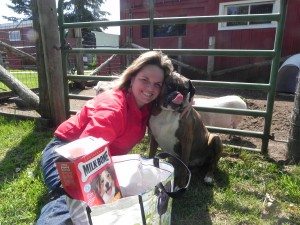 In 2008 Andy was diagnosed with incurable Leukemia..he told me he was tired but that his family and the Sancutuary along with his desire to continue making a real difference and giving animals a SECOND CHANCE keeps him going!  I hope that Andy gets his second chance and that someday he is cancer free!  Miracles happen!
Take your family and /or friends for a visit..you won't be disappointed..but guaranteed..you will be inspired…and maybe you will even find it in your heart to give an unwanted and needy pet a second chance-after-all, it is July and many pets are looking to all of us for help and a new home!
Big Sky Ranch Animal Sanctuary
810 Pelton Road in Peltons Corner
Kemptville,Ontario CANADA