Billy Elliot. Found as an 8 week old stray with multiple fractures. Ampution was the only way to save his little life.  Fostered, adored and rehomed by Eleven Eleven Animal Rescue. He is happy, healthy and doing AMAZING today.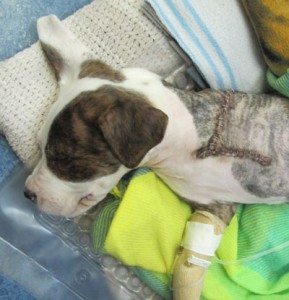 Holly. One of many rescued from a puppy mill. She'd been debarked, malnourished, riddled with worms and partially deaf.  Kiko Dog Rescue found her a new, loving home where she is so appreciated and loved.
Ben. When he was 5 weeks old, some drug addicts cut his tail off with scissors – and those of his 6 siblings to make them look 'scarier'.  All of his siblings died from the trauma.  At 7 weeks old, Ben went to live at Teja's Animal Refuge and has been there ever since.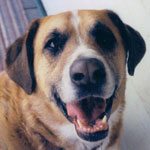 There are hundreds, thousands, of stories like this in the Montreal area.   Cruelty comes in many forms:  Overpopulation.  Abuse.  Abandonment.   And the ones who take the overflow – the injured, the terrified, the 'unadoptable'  are volunteer-run rescues.  Picking up the pieces where some coldhearted dirtbag left off.   In our humble opinion, animal rescues are unsung and tireless heros.
We, at Montreal Dog Blog have the opportunity to offer at least a little relief for these rescues.  If we can get the Nutrience Fan Page to 10,000 Fans – they'll release a $10,000 food donation to these 3 rescues. Which will go a long way to feed a lot of animals like Billy, like Holly, like Ben.
And all YOU have to do – is go here: https://www.facebook.com/nutrience and click LIKE.  No heavy lifting.  No sweat.  Just a good feeling in your heart – knowing you're doing what's right.
Then don't forget tell your friends to do the same! We need the widest network we can get!
Join the Food for Fans Campaign – we're almost there!!! (and yes, we'll definitely be covering that big food delivery for this blog – what a great day that is going to be!!!)