A good samaritan found little Gizmo in Laval last week.  A young shih tzu, tied up alone, severely injured.  He was suffering with a traumatic eye injury – concluded by a vet to have been caused by the pressure of strangulation to his neck.  Unfortunately, the eye cannot be saved.  It will have to be removed this week.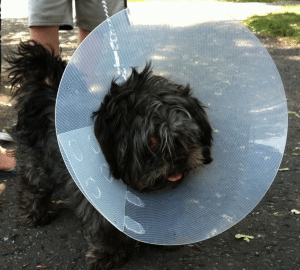 Please read his story in the below press release (click to enlarge).
Thank you to that good samaritan and to Animal Adoption Montreal for taking on his case.  They are hoping for donations to cover the cost of his surgery and will later place him in a loving home where he will never be abused again.
You'll find more pics and a video of Gizmo on their Facebook Page. All of the donation details can be found in the press release below.