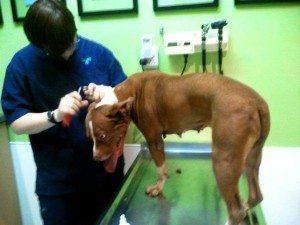 Angel is a beautiful little pitbull who was found wondering the streets of St. Henri, lactating and bruised. We suspect she was beaten and put outside after being used for breeding. She has been recently badly bitten by another dog (pitbull) and has been seriously injured. She is currently on morphine and being treated by Dr. Plasse at the Lasalle Animal Hospital. We need funds to have her treated to the extent she needs, as well we need to get her sterilized and vaccinated. From there she will go to a caring foster family and we will get her adopted, after CAREFULLY screening potential adopters.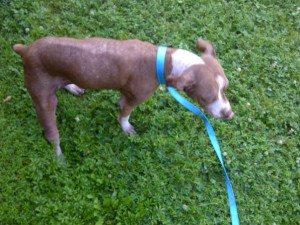 Angel lost alot of blood and we weren't even sure she would make it but miraculously she survived. She is getting stronger each day and is a really loving dog. She is making great progress and getting great care with Dr. Plasse.  She can now walk!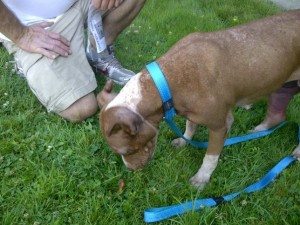 She has lots of visitors including Debra Tafler, who was instrumental in getting Angel to Dr. Plasse in the nick of time.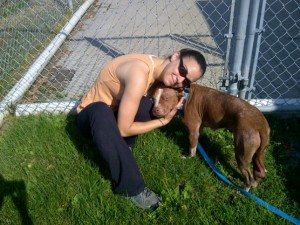 HOW TO HELP ANGEL :
ONLINE
Click:  Donate Now
Donation Amount: enter the amount of $ you would like to donate
Fund/Designation: select the corresponding designation that says Angel the Dog
Message Box:  You can leave a message here if you like.
Dedications (optional):  you can 'gift' this as a charitable donation on someone else's behalf if you like – great gift idea!
You will get a tax receipt for your donation.
BY CHEQUE:
You can also help Angel by sending a cheque to:
PetitsPawz
1125 Moffat Ave.,
Verdun, Quebec
H4H 1Z1  
You can pay by Credit Card either directly to the Lasalle Animal Hospital or through PetitsPawz:
If you wish to pay directly to the Lasalle Animal Hospital, please call 514-365-6880 and tell them you would like to donate by credit card for Angel the dog, under PetitsPawz.
If you wish to pay by credit card through PetitsPawz directly, please call Susan Mackasey at 514-769-5511 and she will process your payment.
Everyone who donates will be issued a tax receipt.
Thank you in advance for helping Angel.