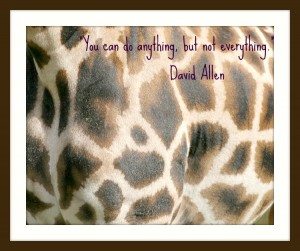 I realize that a big part of my life is dedicated to "helping".  I work at a local university and very happy that I play a valuable role in helping and guiding students as they make important decisions about their future and in achieving their professional/personal goals.  I also do a lot with regards to green and sustainable living.  At the university, I was recognized and awarded the  Sustainable Champion Award 2010; based on my dedication in helping to make the university a greener and more sustainable place to be.  Over the last two years I have also worked on building a resource-filled Facebook page (E-Z Being GREEN) which is really my small way of contributing to helping and educating people on living a greener, simpler and healthier way of life through simple tips and useful resources.
And then there is my involvement with animals….The other day at the university somebody said, "Shelly..no matter what you do, you will never be able to save them all!"  I thought about this and realized "yes…I can not save them all…unfortunately!"  In fact, some days there are really sad days whereby I feel totally down and unmotivated because I am simply overpowered by the "bad" stories, the tremendous need, and the realization that I do not have that KIND of power!  But,  what I have also realized is that I do have some power and I do have a resiliant passion!  When I go into a school or community centre, to speak on the topic of humane education, and I visibly see kids change their facial expressions or body movements when I discuss and show how they can make a difference by being compassionate towards animals, it utterly makes my heart whole and beat faster..I have never walked away from a school visit feeling that I have not made a difference!
Lately, I have had the opportunity to be around people who do things simply from the heart.  Last week, I visited the Fauna Foundation; a sanctuary providing rescue and a permanent home for used, neglected, abused or rejected animals, with a primary focus on providing a safe haven for chimpanzees rescued from research.  The thing that inspired me most, is that Gloria Grow and her team are passionate about their work and in helping.  They do not focus on what they can't do but rather what they can do!  They KNOW the chimpanzees and treat each one with individual attention and understanding.  Research on animals is still going on but Fauna is doing what it can to not only help, but to spread awareness and educate people.
Then there is the MontrealDogBlog-Nat Lauzon along with a dedicated team of Bloggers and friends are motivated to do whatever it takes to   proactively be a voice for those who can not speak for themselves.  I have seen this team, friends, and fans ban together to spread the word and actually make things happen-whether that be a rescue, an adoption or managing to get the word out about a husky who had been left in a hot car and needed attention FAST! This type of "motivation" comes from a deep-rooted desire to be the change we want to see in the animal world. Again..the focus is on not on what we can't do but what we can do!
Last night, just as we were about to walk my dogs, I thought about another comment I received lately, "Must be expensive and time-consuming!" Yes of course!  There are times we want a simpler life but it passes very quickly.   We have a Boston-Terrier rescued at 18 months from a backyard breeder.  When Maya arrived she could not even walk.  We also have a disabled French Bulldog mix…left in a market with scars from neglect and obviously abuse.  It has taken a lot of time and a lot of dedication to build their trust and confidence. But..this is what we have always been motivated by-giving second chances and doing what we can do to change mistrust into trust and fearfulness into confidence.  We can't save them all but we can save some.  This picture of Maya says it all..3 years later!  And look at Punky…less than a year of being in our home…enjoying her new pool!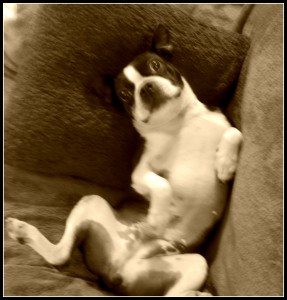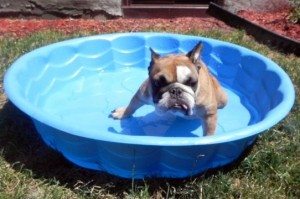 I think we are all here for a purpose..I don't like when some people think that because I am so proactive about animal welfare, that I do not care about other things…I care about a lot of OTHER things…..but feel blessed to have been given the passion, the desire, and the ability to play this important role and to know there are others who feel the same way!
In my office at the university, I have a quote on my bulletin board for students to see:
"You can do anything, but not everything."
—      David Allen
So no matter what, it's not about what we can't do but what we can do..its about progress not perfection..and it's about allowing us all to feel what's in our hearts and allowing it to motivate us!