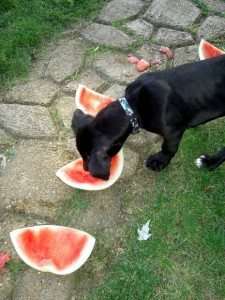 There  are a few topics I can talk about for hours…obviously dogs…but also…green living and nutrition.  I decided a few years ago to try and REALLY understand health and wellness, because I felt that I had too much of a concentration on dieting and losing weight, but never knew what it meant to do so in a truly "healthy" way.
I never thought of words like organic, plant-based, natural, raw, vegetarian, grain-fed, holistic, processed, whole-grain, etc.  Now those words are common in my everyday life! I may still struggle from time to time, but I definitely FEEL better than ever and realize that it takes a lot to change one's way of life because it requires dedication, commitment, consistency, knowledge, and TIME.  There are no quick fixes and education is "key".  When it comes to food-It's not only about thinking and giving consideration to what is in the food we buy, but also not being seduced by good deals, quick fixes, and advertising.
At first it was all about me:) but shortly afterwards, I realized that this "new" way of life would not only have to be about us but also about our furry babies.  I looked around and noticed that Bailey had an itchy skin condition, Kayla the pug was pleasantly plump, and Punky's  fur was in really bad shape and she was underweight.
It is a known fact that many things can be cured by a change in one's diet.  I feel blessed and very lucky to have knowledgeable people in my life who I can talk to about nutrition as I take a proactive approach to ensuring that all members of my family (humans and animals) are all a path to healthier living.
Several years ago, I had the pleasure of meeting Urban Green Girl and a few weeks ago, we had the opportunity to get caught up with each other's lives over a cup of green tea.    Of course, we discussed many things but one topic we certainly covered was nutrition!  It started on a human level but the conversation quickly changed to doggie nutrition as we passionately spoke about our beloved pets.
Urban Green Girl pointed out that many pets seem to be coming down with the same illnesses as us and we all probably know someone whose cat or dog is obese, has diabetes or even came down with cancer. She pointed out that this doesn't seem to happen to animals in the wild so is it possible that the food we are feeding them has something to do with it?
Thinking about this further, I asked Urban Green Girl to give me her "tips" on choosing a healthier pet food and this is what she had to say:
If it's advertised on TV, avoid it! In general, the lower the quality of pet food, the more advertising is needed to promote it. Since these brands can't be promoted on the merits of their ingredients, ads will often portray cute looking dogs while throwing the word 'healthy' around that has no legal meaning, whatsoever.
If it's sold in a grocery, corner or warehouse type store, avoid it! Generally, these low quality pet foods are able to offer the retailer high profit margins because so little is actually invested into the ingredients. The exception, of course, is for some holistic brands which might appear in the natural/organic food aisles.
If it contains artificial colors, avoid it!Dogs are color blind, so these pet food companies must really think we're stupid if we believe that the kibble is really red, or green because of the vegetables.
If they can't specify the type of meat, avoid it! Meat-by-products, chicken by-products or meat meal are some examples. A brand that can't specify the 'type' of meat leaves the door wide open for what could be accepted from feathers and cow udders to tumorous parts and euthanized pets
If it  contains wheat, corn or soya, avoid it! These ingredients, known as 'fillers', are used because they are inexpensive to fill up the bag.
Unfortunately, they are often very allergenic for most pets (skin problems), not biologically necessary and can cause weight gain. Some ingredients to look out for are wheat mill run, corn gluten meal, ground yellow corn and soybean meal.
If it contains chemical preservatives like BHT or BHA, avoid it! Preservatives are needed to keep the fatty contents from going rancid but the chemical ones have been suspected of being carcinogenic. Look for natural ones like Rosemary and Vitamin E.
Look for ingredients that promote health and prevent illness. Cranberries (fight urinary infections), quinoa, oatmeal, salmon meal, kelp, chelated minerals, yucca, fruits and vegetables are some good examples.
Only buy human-grade (holistic) quality pet food. This means that every food ingredient is the same quality as what you would eat, and all the vitamins and preservatives are pharmaceutical grade. By doing this, you are sure that the food is made in a plant that has been inspected by a regulatory food board like the USDA. It will also help you avoid foods from plants that try to save money by turning off the refrigeration when inspectors aren't around, use dubious quality ingredients and are not clean, increasing the risk of listeria, e-coli and salmonella poisoning. However, because of the lobbying power that some gigantic (low quality) pet foods companies have with AAFCO, it has become increasingly harder for the smaller, healthier pet food companies to label their food as human-grade or organic. Thus, the only sure way to know is to contact them.
Holistic Blend, Fromm, Nature's variety, Wellness, and Eagle Pack Holistic Select are 5 brands recommended by Urban Green Girl.
Read labels, do research and make it a FAMILY AFFAIR! And DON'T FORGET EXERCISE!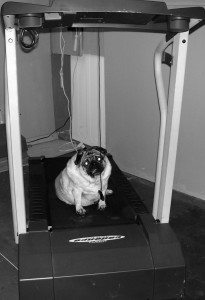 I can honestly say, that since changing our dogs' food and making wiser decisions, Bailey's skin problem is gone, Kayla has managed to lose 1Ib and ½ ( Way to g0 KK), and Punky's fur is soft and she has put on 2Ibs since becoming a member of our family 1 year ago this month.
What's great about all of this is that it can be a true "family" commitment. I know that I feel so much better, and if I were to ask Wayne, guaranteed he would give a thumbs up and the dogs..well…they would definitely give a "WOOF" to that!
We are all worth it!
* For a comparison of grocery, premium and vet food brands by ingredient, check out: The Truth about the pet food industry.