The following is a courtesy listing. Please consult the contact information below for further details on these sweet cats:
With a lot of difficulty and a very heavy heart, we must re-home our two baby girls – cats.  They have been with us for quite a long time.  During this time, my allergies have gotten progressively worse.  Now it's at the point where I am having a lot of difficulty.
Both were strays when they found us. Left behind in our neighbourhood during the famous July 1st moving time.  So ages are approximate.
Tinky:
To whoever adopts Tinky, we will explain the name choice.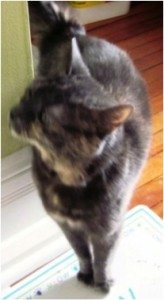 My ditzy little girl.  Sweet, affectionate. Loves having her head rubbed. A talker too!  Tinky adopted us as a stray.  We thought she would keep Maxi company, but alas, Maxi wasn't too pleased with Tinky.  They get along fine now.  Approximately 11 yrs old.  Has been fixed.  In good health.
Maxi: ***IMPORTANT UPDATE: Maxi has found a home!!   If you know anyone who would like to adopt Tinky, please refer to the contact info below!****
My beautiful Tabbi.  Should have been a "one of" cat in the house.  Independent, wise, mischievous, but also loving and affectionate (on her terms) – A typical cat.  Approximately 13 yrs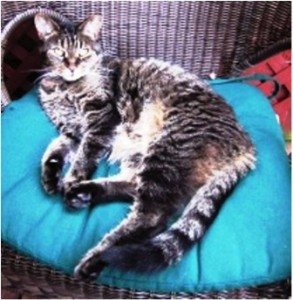 old.  Has been fixed. In good health. Loves being outside in the summer, stays on our deck or backyard, but once the cold comes, in comes Maxi.  We always bring her into the house during the night.
When Maxi adopted us, we didn't know at first, but she was pregnant.  Unfortunately, Maxi's babies were not developed when she gave birth. That is why we brought in Tinky, since Tinky was still very much a kitten. Thought maybe Tinky could replace the babies Maxi lost.
For information on adoption, please contact:
514 707-2365 or david.dorothy@sympatico.ca