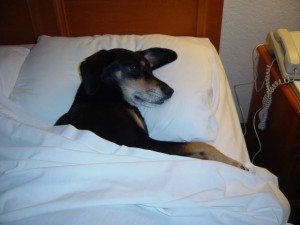 A student asked me recently what I am passionate about?  It took only about 30 seconds to answer: animal welfare/rescue and green living. I strongly believe that what is good for us is also good for our dogs!
A few years ago, I decided to do a bedroom make-over.  I wanted to make it a greener and healthier place to be.  I bought allergy proof pillows and pillow cases to prevent dust mites. I gave my bedroom throw pillows, a great breeding ground for dust mites-to my neighbour.  I bought natural latex pillows that do not emit any toxic gases. Even my new mattress is made of natural latex rubber. Did you know 71 chemicals are used in making mattresses (fire retardants, stain and moisture resistant chemicals) and prior to 2009 there were even less regulations on the ingredients used. I invested in ORGANIC cotton and hemp sheets and made sure not to get reeled in by discount retailers selling dyed products with "unknown" chemicals.  In addition, I never wear shoes, have no electronics, and have only soy-based candles in our bedroom!
I never really thought about the dogs' sleeping conditions until I realized just how much better I felt.  Yes, of course they had beds but I did not think about important things; especially what they were made of.  I made a list of things to consider:
1.  Size: If the dog is completely relaxed and stretched out, the dog should not be hanging over the bed…Unfortunately, in my case Bailey still chooses to not use all of the space and always lies with his head over the bed..Ohh Bailey!  If you dog is still in growth mode, ask your vet or a pet accessory expert-they should be able to tell you how big the dog will get so you can choose appropriately.
2.  Type of sleeper: Is your dog a curler, a cuddler, a stretcher, a hoarder?  There are different kinds of beds…pillow type, nest type or even donut type.  All dogs are different.  Rescues often like to curl up and need a lot of comfort around them so often prefer the donut style and feel more secure that way.
3.  Need: We have both a disabled and older dog, so accessibility and comfort is really important for their aging/weak joints.  There are orthapedic, raised and temperature controlled beds.
4.  Sustainability: Important to look at durability and washability. Check the guarantee.
5.  Make and ingredients: It is now possible to choose doggie beds that are all natural;  made from organic cotton cover, hemp or even from recycled plastic (previously soda bottles). Are they hypoallergenic and insect-resistant?
So, I researched.   I saw a few options but kept on coming back to Greener Pup and Ace of Hearts, a non-profit dog rescue which finds homes for pets scheduled to be euthanized. Their partnership means that 100 % of the proceeds go to rescue-So buying a bed means saving pets while saving the planet! I LOVE this!  It brings my two passions together!:)
Their doggie beds are made from 70-120% recycled plastic bottles (not in landfills:)). They are hypoallergenic and insect-resistant and have washable covers so they are very sustainable and long-lasting:).  They are also reasonably priced and there are definitely loads of colors, kinds, and sizes to fit every taste.
Greener Pup beds can be found at The Bone House, in Toronto.

There are a variety of options but making the greenest option is the only option for me.  My dogs love to sleep and I want their time spent slumbering away to be both pup friendly and planet friendly.  I feel very good that we are all sleeping well and reducing our carbon-footprint at the same time!