Hi – my name is Nat Lauzon. I'm a radio deejay, writer, voice artist and full time animal lover. For the past 11 years, I've made Montreal my home.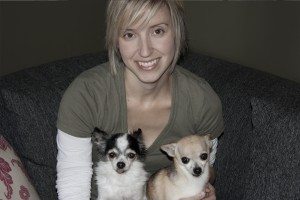 How it began
A few years ago, I decided to volunteer in the wake of one of many puppy mill seizures in Quebec. It was shocking, saddening, horrific. But most of all it moved me to action. Abolishing puppy mills and enforcing animal cruelty laws is one of my greatest passions. I've had the chance to connect with a number of incredible individuals, each doing their own thing to help further the cause of animals in this province and beyond. And while I've been at it – my love for dogs has grown exponentially too (as if it was possible!).
What is it?
I did a little digging and realized there was no single space that provided all the resources that we as Montreal dog-owners need! So, I started MontrealDogBlog. Here, you'll get it all – from dog parks to daycares to vets (but it's a work in progress so if we don't have it, let us know!).  Find out what's happening near you with our handy Events Calendar or see what our awesome bloggers are blogging about, each with their unique, personal view of life with animals.  Feel free to send along a question for our resident vet or trainer.  Check back often – there's always new stuff!
Thanks!
This site is an ongoing labour of love from many people.  Many thanks to our vet, our trainer, our growing team of bloggers, an incredible webguy and a pretty cute graphic designer.
Oh, and thanks to my 2 chihuahuas, Flea and Chachi. As I worked for hours at the computer, they were curled up at my feet every step of the way.   Sure, they were farting and licking their naughty bits most of the time – but it's the thought that counts.
Thanks to you – for being part of the MontrealDogBlog community.
N@ Lauzon