If you have a service to list here, please see the ad page for rate info or contact: nat@montrealdogblog.com 
DISCLAIMER:  This is a listing of Montreal boarding facilities, only.  When choosing a boarding place, please do your own research.  Check out this list of tips to help you decide where to leave your favourite furry friend!
Traveling to Montreal with your pooch?  For a list of pet-friendly hotels – click here!
---
Manoir Kanisha:  Founded in 1990, the Manoir Kanisha is a multi-services Pet Care Facility located on the grounds of the Montreal International Airport, just few minutes away from your next flight or VIA train trip.  This first rate facility offers: Boarding for Dogs & other pets (such as cats, birds, rabbits, turtles…), individual daycare, special care, indoor or outdoor "individual playtime", pet photography, International Pet Relocation (if you are moving to another country), Pick-up/Delivery… 7 days/week.  We offer grooming, shaving and styling cuts for all the breeds of dogs, extra large or small, young or old, quiet our active, friendly or aggressive.  We will follow your instructions to make sure that once groomed, your dogs will resemble the result you imagined.
Our priority is to ensure the well-being, comfort and security of your animal.  You will depart with peace of mind.
For our rates, details and pictures:  www.manoir-kanisha.com/en/   Reservations:  (514) 631-1755
Fondé en 1990 et localisé sur les terrains de l'Aéroport international de Montréal, le Manoir Kanisha est situé à quelques minutes de votre prochains vol ou voyage en train VIA. Ce centre multifonctionnel assiste les propriétaires de chiens, ou autres animaux domestiques (chats, oiseaux, lapins, tortues…) en offrant : pension/hébergement, garderie de jour, soins spéciaux, périodes de "jeu individuel" (intérieur ou extérieur), relocalisation Internationale (si vous déménagez), photographie animale, cueillette et livraison 7 jours par semaine.
Nous offrons la tonte, le toilettage et des coupes stylisées pour toutes les races de chien et de chat : extra-large ou très petit, jeune ou âgé, tranquille ou animé, amical ou agressif. Nous suivrons vos instructions pour assurer qu'une fois toiletté, le résultat final ressemble à l'image mentale que vous désiriez.
Notre priorité est le bien-être, le confort et la sécurité de votre animal.  Vous partirez l'esprit en paix.
Pour nos tarifs, détails et photographies:   www.Manoir-Kanisha.com   Reservations: 514-631-1755
---

Walks & Wags:
 Walks & Wags specializes in professional dog walking and pet sitting services. For the past 14 years, we\'ve been making owners and their dogs' lives easier in the Montreal and West Island areas.  Insured and bonded, we offer a variety of services including:  group and private dog walks, home visits for cats and other small pets, and house check visits (watering plants, bringing in mail, etc.)
www.walksandwagsinc.com
walksandwags@gmail.com
514-290-9416
---
Bark Avenue: Bark Avenue: Montreal's premier dog care centre, located in Ville St-Laurent. Bark Avenue offers boarding, daycare, training and grooming. Our facility provides onsite staff supervision 24 hours per day and is completely alarmed. Daycare play areas have a staff member present at all times to provide a safe, fun and loving environment for your pup. Boarding options include private condo boarding, crate boarding and supervised group cage free boarding during peak times all with the option to have your dog enjoy a day full of playtime with friends in our doggie daycare. In association with ALPHA Dog Training Montreal we also have extensive board and train programs where you can leave your dog with us for 1-5 weeks so you can return form a restful vacation to a perfectly trained and well behaved dog.  Enquire about our 10% discount on training and boarding for rescue dogs.  Come take a stroll down Bark Avenue and schedule a tour.  Click on www.barkavemtl.com call 514-747-BARK (2275) or email  info@barkavemtl.com
---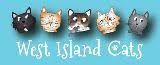 West Island Cats: Going away and have to leave your Feline Friend behind? Let's face it, cats are finicky! And we cat lovers hate to disappoint our furbabies! No longer just in the West Island, West Island Cats is a purrsonalized cat sitting service where your cat stays in the comfort of their own home. We are a team of responsible and dedicated ladies who understand the worry of having to leave your furbaby behind. What better way to take care of your feline loved one! Our service also offers courtesy home care while you are away, which includes (but is not limited to) watering plants, bringing in mail, perimeter check, etc. Don't  forget to ask us about our Feline Fidelity & Referral programs! We look forward to adding YOUR furbaby to our West Island Cats extended family =^.^=
website: www.westislandcats.com    e-mail: info@westislandcats.com   phone/text:   514-717-6257  FB:  https://www.facebook.com/westislandcat  Instagram: westislandcats   Twitter: _WestIslandCats
---