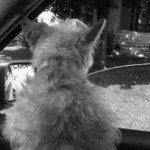 When Terry Price Kimmel isn't volunteering or fostering with the Montreal SPCA E Shelter helping care for neglected animals she's networking online finding homes and help for needy cases.
Terry has been involved with various Montreal animal rescues and charities for over 15 years and is certified to deploy on large scale rescues.
Terry was born in Montreal Quebec and lives with her husband Rick and their nephew Michael in Kirkland.
Three dogs have rescued them.  Bear, Sam, and a miniature Schnauzer named Mouse.
She is a freelance writer published in The Suburban newspaper among others, and has an on line pet business: www.bringyourdoghome.com
Read the latest posts from Barking In The Wind:
For all archives, click here!