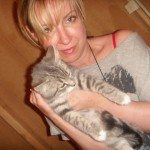 Susan Mackasey is our official Cat Blogger!  And with good reason.  She founded PetitsPawz Cat Refuge in 2009, which keeps her very busy.  She also has a business helping elders to stay in their own homes. When she's not working, cleaning litters and feeding the many kitties in her care, she's spending time with family and friends and hanging out with her own furry babies.
Read the latest posts from The Cat's Meow:
For all archives, click here!