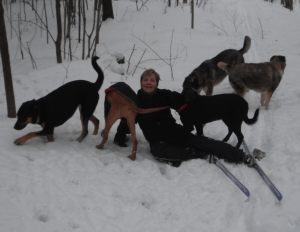 Dr. Amanda Glew, DVM graduated from the Ontario Veterinary College, Guelph in 1988 (Is it really that long ago? she asks!). Dr. Glew has worked in mixed practice, was an owner of the Hudson Veterinary Hospital until the summer of 2012 and has taught at Vanier College in the animal health department since 1990. She also teaches first aid courses for the Canadian Border Service Agency dogs. Dr. Glew, comfortable with exotic animals, is a board member of le Nichoir, a bird rehabilitation centre. Her interest in shelter medicine led to the development of a separate low cost sterilization clinic.
She continues to practice cutting edge medicine being one of the first to introduce pediatric spay/neuters and discontinue yearly vaccines in Quebec. She has a love of surgery, especially in the area of orthopaedics.
"If it makes sense, I am going to do it" she justifies to anyone who questions her strong opinions. Her passion is working with pets and their people, which is why she is so pleased to be a part of  Montreal Dog Blog.
With her partner Dr. Cote, they will be opening the Timberlea Veterinary Clinic at the Collisee Kirkland this January 2013. "I am nearly fifty, but life is just beginning" this mother of 3 loves to tell all.
Read the latest posts from All Creatures Great and Small: