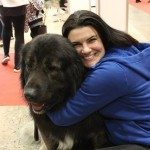 My Name is Vanessa. I'm a veterinary technician and I am the founder and owner of Guardian Angels – Les Anges Gardiennes Pet Care Services.
I am very happy that I am part of the bloggers group for Montreal Dog Blog. Having followed them for some time I find myself excited to be sharing my knowledge and experience with you! I love to write and hope that you will enjoy reading my posts. I encourage comments questions and would love for you  to share your stories too because that's how we learn.
I've been in the pet sitting and dog walking world for more than 14 years, I and my Angels devote ourselves to helping pet parents and their pets with their daily responsibilities.  Keeping pets safe, healthy and loved is exactly what we strongly believe and will keep accomplishing for years to come.
My goal is to give back to the community and to help the people that devote themselves to helping the animals.  I believe we all want whats best for them, and what better way than to work together to solve animal-related issues within our city of Montreal.
Read the latest posts from Keeping Pets Safe, Happy and Loved:

For all archives, click here!