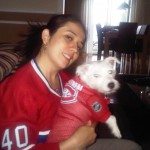 Liliana Danel has lived in Mexico City, Texas – and Montreal for the past 8 years. She and her husband share their home with with a 4 year old rescued Jack Russell Terrier named Romeo (aka Nanners) and 3 adopted lionhead bunnies. When it comes to animal suffering and neglect, she is passionate about spreading the word.  An avid Twitterer, reader and Hello Kitty collector – Liliana hopes to shine a light on animal topics that would otherwise not get told.  Check out her blog,  "A Hand For A Paw".
Read the latest posts from Rescue News:

For all archives, click here!