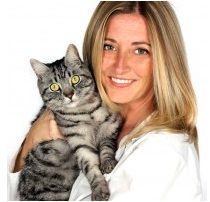 Dr Enid Stiles has always wanted to be a veterinarian. Ever since she was 5 years old she would drag her parents to zoos and sanctuaries wherever they travelled and spent hours with her dogs and horse as a teenager. It was a shoe in that she would eventually make her life's passion a reality. Dr Stiles graduated from the Ontario Veterinary College in Guelph with a DVM in 2000.
Prior to her veterinary degree, she completed a Bachelor of Science (Conservation Biology) at the University of Ottawa and in 2009 she completed a Masters in Clinical Sciences (Behaviour Medicine). It was a busy year, 2009, as Dr Stiles also opened a full service veterinary hospital in the West Island: Sherwood Park Animal Hospital. A dream come true, the hospital is a place where she is able to put her love for behaviour and excellence in veterinary care into practice.
Dr. Stiles was born in Newfoundland, however since 1987 she has had the opportunity of living in Zimbabwe, followed by time in Ottawa, Guelph and now Montréal. Dr Stiles is passionate about helping animals and their families by providing excellent care and compassion to all of her patients, no matter how big or small. She has been working very hard for the past 8 years at increasing her knowledge and experience in Veterinary Behaviour Medicine. She has achieved this by seeing over 500 behaviour cases and by completing a Clinical Masters degree where she studied canine hyperactivity.
International Veterinary medicines is yet another passion of Dr. Stiles. As a founding member and President of Veterinarians without Borders Canada, she has been fortunate to work with people and animals around the world, including in Northern and less accessible communities in Canada. She believes strongly in working for, and with communities in need to foster the health of animals, people, and the environments that sustain us all.
Dr. Stiles has 3 children, 2 dogs, 2 cats and a simply fantastic husband! In her spare time she likes to swim, ski with her children and travel.
Read Enid Stiles' latest articles: