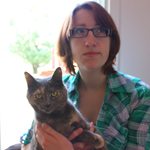 Since beginning to volunteer at the SPCA Montérégie in 2005, Dana Girard has upgraded from 'dog walker' to 'that girl who can identify like 200 cats by name'. Her fondness for felines began from birth with theSiamese cat she grew up with, and now extends to a love of all animals.
Dana still has some time to go as an English Literature student at Concordia, where she can satisfy her interest in good stories and in writing…even if she might prefer getting stories from video games rather than books and writing creatively rather than writing essays.
Read the latest posts from Translated From Feline:
For all archives, click here!