---
Manoir Kanisha:  Founded in 1990, the Manoir Kanisha is a multi-services Pet Care Facility located on the grounds of the Montreal International Airport, just few minutes away from your next flight or your VIA train trip.  This first rate facility offers the following services: Boarding Dogs, cats & other pets (such as birds, rabbits, turtles…), individual doggy daycare, special care, indoor or outdoor "individual playtime" sessions,  Grooming Dogs & cats, Pet Photography and Pick-up/Delivery 7 days/week.
Should you come back to Canada or move to another city or country, we are IPATA member and specialize in International Pet Relocation. During the last few years we have imported or exported domestic animals from more than 80 different countries.  See here for info.  Our priority is to ensure the well-being, comfort and security of your animal.
Select Manoir Kanisha and you will depart with peace of mind.  For rates, more details, lots of pictures, click:   www.Manoir-Kanisha.com  Reservations: (514) 631-1755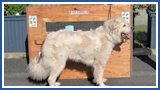 Fondé en 1990 et localisé sur les terrains de l'Aéroport international de Montréal, le Manoir Kanisha est situé à quelques minutes de votre prochains vol ou voyage en train VIA. Ce centre multifonctionnel assiste les propriétaires de chiens, chats et autres animaux domestiques (oiseaux, lapins, tortues…). Nous offrons les services suivant: pension/hébergement, garderie de jour, soins spéciaux, périodes de "jeu individuel" (intérieures ou extérieures), tonte, toilettage et coupe stylisée, photographie animale, cueillette et livraison; ouvert 7 jours/semaine.
Vous revenez au Canada? Vous déménagez dans une autre ville ou pays? Nous sommes membres de l'IPATA et grâce à notre service spécialisé de Relocalisation internationale d'animaux, nous assurons l'importation ou l'exportation de votre animal dans plus de 80 pays différents.  Voir ici.
Notre priorité est le bien-être, le confort et la sécurité de votre animal. Choisissez le Manoir Kanisha et vous partirez l'esprit en paix.  Pour nos tarifs, détails et photos:  www.Manoir-Kanisha.com   Réservations : 514-631-1755