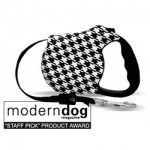 Avant Garde Sherlock Leash BUY HERE $33.29
This always popular houndstooth print is gender neutral and classic. It also won the raves of the hipsters over at Modern Dog Magazine. One button brake and release. Small and Med.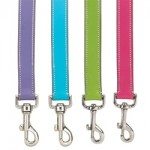 Casual Canine Flat Leather Leashes BUY HERE $26.09
This classic, clean design features reinforced stitching and thick, soft leather for beauty and durability. Great for all-weather use and resistant to stains and odors.
Guardian Gear Waterproof Dog Collar BUY HERE $8.09
Waterproof, sturdy and durable dog collars are a must-have for rainy day walkers. Bright orange provides visibility and helps to ensure safety.
Guardian Gear Reflective Dog Leashes BUY HERE $13.49
Bright colors are stylish and safe.  Leads have a full-length reflective tape that lights up brightly in headlights or flashlights.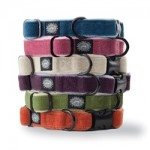 Planet Dog Cozy Hemp Adjustable Collars BUY HERE $23.39
This ultimate, eco-friendly dog collar is naturally dyed pure hemp – one of nature's abundant crops that makes a super-strong fabric. Withstands swims, mud puddles and snowy romps!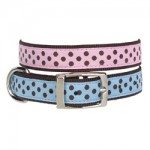 East Side Collection Pastel Polka Dot Collar BUY HERE $7.19
Collars feature nickel-plated metal buckles and d-rings, leads have nickel-plated swivel clips. Coordinating Pastel Poka Dog Leashes are also available.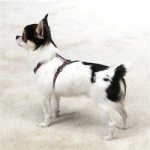 Parisian Pet Polka Dot Harness BUY HERE $6.99
Made of durable nylon. Harnesses are fully adjustable for greater control over younger or assertive pets.
Cruising Companion Houndstooth Car Harness BUY NOW $17.99
Cruising Companion Houndstooth Car Harnesses have padded, vest-style restraints that evenly distribute pressure upon braking to keep pets comfortably secure.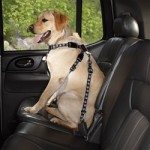 Guardian Gear Pawprint Dog Car Harness BUY NOW $13.49
Harnesses have quick release buckles for easy in and out access. Harness back has a D-ring for secure use with a leash, and a universal seat belt clip that fits most vehicles.

Lightweight, comfortable and breathable. Fully adjustable mesh dog harnesses have quick-release plastic buckles and nickel-plated D-rings for a secure fi

t.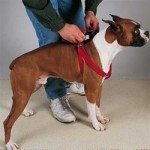 Guardian Gear Nylon 2-Step Dog Harness BUY NOW $8.99
Goes on in two simple steps with no need to struggle with complicated buckles and straps.