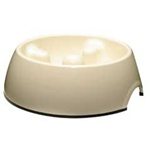 Dogit Go Slow Anti-Gulping Dog Dish BUY HERE $9.89
The specially designed Dogit® Go Slow Anti-Gulping Dog Dish encourages your pet to eat or drink at a slower pace.  This slower pace helps reduce excess air intake, leading to improved digestion and reducing the risk of bloat.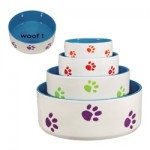 Pet Studio Dog Dishes BUY HERE $5.39 each
Perfect for playful pet owners. Dishwasher-safe ceramic dog dish has a colorful pawprints on the outside, a light blue finish, and a cute "Woof!" slogan inside.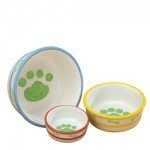 Pet Studio Ceramic Stripes and Bones Dog Dishes BUY NOW $4.99 each
Gleaming-white, high-gloss ceramic bowls are available with pastel stripes in Blueberry (Blue ) and Watermelon (Red). Every dish is decorated with lime green bones with a cute lime green pawprint inside. Lead-free and dishwasher safe.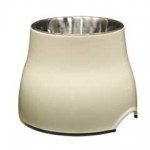 Dogit Elevated Dog Dish BUY HERE $17.09
Designed to provide a more comfortable eating or drinking position, the Dogit Elevated Dog Dish is perfect for large dogs, older dogs, or dogs with muscle or joint problems.
The stainless steel insert removes for easy cleaning.  Dishwasher safe.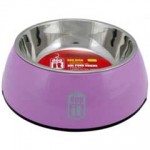 Dogit 2 in 1 Durable Plastic Bowl w/ Stainless Steel Insert BUY NOW $11.69
Plastic Dish with stainless steel dish inset. Can be used separately or together.
Dishwasher safe.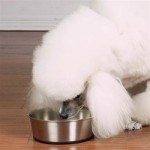 ProSelect Stainless Steel Bowls with Rubber Bases BUY HERE $5.39
Stainless steel dog bowls with non-skid rubber bottoms that won't slip, slide, or damage floors while dogs eat. Easy to clean bowls are dishwasher-safe and built to resist scratches, rust, and denting.