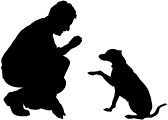 If you have a service to list here, please see our ad page for rate info.
DISCLAIMER:  This is a listing of Montreal-based trainers.  When choosing a trainer – please do your own research.Here is a list of questions you might want to consider asking a potential trainer.  If you're not satisified with the answers or the feeling you get – move along!
---
Perfect Pet Training
 Creating harmonious relationships between people and their pets, one dog at a time!  Specializing in Puppy Training, Obedience Training and Behavioral Issues using friendly, positive methods.  514-209-0271 (Meira Frankl – the Montreal Dog Blog Trainer)
---
At ALPHA Dog Training Montreal we tailor our approach to target exactly what your dog needs. We can help you with puppy training and basic obedience or if you are experiencing severe aggression or behavioural issues with your dog we can help with that too.  Working out of Bark  Avenue Montreal we are able to offer extensive board and train packages where you can leave your dog with us to be trained for 1-5 weeks.  For more information and to book your free evaluations call 514 576 8000 or  visit www.AlphaDogTrainingMontreal.com. Why Alpha?  Because results matter.
---
Family K9 Dog Training   The Best Training for Your Best Friend. Guaranteed.  Providing dog lovers the very best training for over 20 years! Results guaranteed for life.  In home or in kennel training solutions for every need from Puppy raising, Obedience of all levels, On & Off Leash courses, solutions for behavioural problems & Protection Training,  Make sure to have a look at our website & video page – see what can be done for your dog!   www.familyk9.com   514-990-K9K9
---
Canine Education is a personalized dog training company, we use all techniques involving positive reinforcement to help you and your furry loved one. We have cognition profiles for each dog to better help understand your dog!  From in home classes, to groups, to pack walks! We can help!  canineeducation.ca  514-777-7894